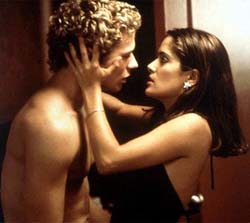 Ryan Phillippe and Salma Hayek
in 54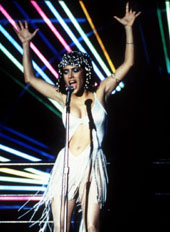 Salma Hayek in "54"
"54"
This is a re-creation of '70s life at the notorious New York nightclub Studio 54. ONE LINE COMMENT : Disco daze '54' can't keep a '70s beat
Once located at 54th Street and 8th Avenue in Manhattan, Studio 54 attracted unlimited celebrities, as well as fawning spectators who just wanted to get close to the celebs. Only the physically beautiful gained entrance to the hedonistic club whose assorted male workers -- waiters, bus boys and bartenders -- worked the place half-naked. No one may have noticed at the time, but Studio 54's allure was that it was, by definition, just another gay bar, only more glorified.
The hero in "54" is also a small-town kid -- Shane O'Shea, a grease monkey from New Jersey with star-crossed pretensions. Newcomer Ryan Phillippe plays him.Once Shane reads about Studio 54, he just has to go. Luckily, Shane is a budding hunk and Rubell personally selects him for entrance to the place, making him a bus boy and then a bartender. Rubell is played by a toned-down Mike Myers. Myers gets one good line. When the IRS agents raid the place, his Rubell says, "Even in the dark, their suits look cheap."
The movie hints at how Rubell liked to seduce his vast number of male employees, but something's missing. "54" goes for a dull heterosexual triangle, now playing up the weird but cozy familial set-up of Shane, Anita and Greg. And in a grotesque effort to further "normalize" the material, it introduces the character of Disco Dottie (Ellen Albertini Dow from "The Wedding Singer"), a cute little grandmother with a secret life: Dottie likes to do drugs at 54.
Stupid stuff. There's still a strong movie to be made about Studio 54, but this isn't it. It's difficult to care for dopes pleading (and willing to humiliate themselves) to get inside Studio 54, and even harder to muster up sympathy for people like Shane, willing to do anything for fame. There is also something dead and nerveless about "54." It has no narrative strength whatsoever, and it's surprisingly unsexy.
If you still want to go b`coz u want to see Salma Hayek I suggest... you just visit one of her many fan club pages filled with photos and hang your tongue out!!